Keep up to date
To stay up to date with the COVID-19 crisis, bookmark this page, we'll post all updates here.
Updated 14/07/21
16:00
Summer 2021 Grades
I would like to begin by thanking all the team at CloudLearn and Tutors and Exams for making CTAG grading possible for all CloudLearn exam candidates for a second year running. At results day we will have delivered more than 2500 grades that would otherwise have gone unawarded by using our approved grading system. We have all endured personal struggles over the last 18 months so I want to say how proud I am of my team, going above and beyond in making this possible.
I would now like to congratulate all of the students and exam candidates who have shown tenacity and commitment in working through unprecedented circumstances to achieve qualifications to enable their personal growth and to pursue their academic goals. We have helped candidates all over the world achieve qualification through centre grading that would have otherwise been impossible. The coordination and academic management of this feat has presented a lot of challenges, a huge thanks to our academic team of tutors and markers who successfully marked and graded thousands of papers to make this possible.
We wish all of our candidates every success in the future. Good luck with your grades!
A-level students will receive their results on 10th August 2021 and I/GCSE pupils will get theirs on 12th August 2021.
If you would like an opportunity to improve your grade, you can choose to sit exams in the Autumn series instead. Resits do incur entry fees. Deadline for entry for the Oct/Nov Autumn series is 25th of August 2021.
Updated 14/05/21
11:02
CTAG Grades Submitted
CTAG grades have now been submitted to our partner exam centres. We will work with the internal and external moderation teams over the coming weeks to ensure grades are validated and submitted correctly.
Updated 03/03/21
11:50
CTAG Grading Decision
All CloudLearn exam candidates have been sent a CTAG grading decision form today advising of grading options and assessment submission deadlines. This form must be completed by 12/03/21 in order to request centre grading.
Due to unprecedented exam candidate volume, we will be closing exam entry on 08/03/21. If you require grading in summer 2021, you must book the exam before 08/03/21, no request for CTAG can be made after this date.
Updated 26/02/21
18:15
How Qualifications will be Awarded in 2021
What's the Latest?
Ofqual announced yesterday how qualifications will be awarded in Summer 2021. You can view a copy of the announcement here.
What happens now?
Now that Ofqual have made their announcement, it now lies with the exam boards to provide guidance on how that will work for private candidates. We are expecting guidance on this to come through over the next 1-2 weeks and are engaging with all relevant bodies to ensure we can grade ALL CloudLearn exam candidates. Please be patient whilst we work on your behalf.
Our Exam Centre Partners, Tutors and Exams, are actively engaged with the Awarding Bodies, DfE and Ofqual, to ensure that a robust and fair process is available to private candidates. Once we have the process agreed we will be contacting ALL CloudLearn exam candidates to advise you of what to do next.
In the meantime do not stop studying! Please continue with your studies as if exams were continuing and submit as much assessment as possible. Bear in mind if we are to use your assessment data your course will need to be active and you will need to book your exam on CloudPort. If your course has expired you can extend the course by contacting info@cloudlearn.co.uk
Do ensure you log into CloudPort regularly, we are only able to send updates to students who are actively engaging with their course (logged in within the last 9 months).
Updated 04/02/21
16:30
Pearson & CIE International GCSE - Summer 2021
It probably comes as no surprise that Pearson and Cambridge International GCSE and International A Levels have been cancelled for Summer 2021. Pearson Edexcel made the announcement yesterday afternoon and Cambridge Assessment International followed suit today.
What Does This Mean for Me?
As it stands, we have no other information other than Pearson and CAIE will be using a similar or same process as the already cancelled GCSE's and A Levels. A Centre or Teacher Assessed Grade (CTAG) will be used. Final details will be announced following the joint DfE and Ofqual consultation outcome.
If you are studying with one of our partners, we will have already spoken with them about this. They will be in touch with you in due course to let you know what to do next. However, we will also be updating you via our examination portal (Engage) too.
Please continue with your studies and ensure that you are following the guidance that we issue to you.
We are receiving a number of enquiries relating to the use of a "mini exam". The phrase "mini exam" is somewhat misleading and we will continue to refer to them as "alternative assessments". Alternative assessments are only part of the DfE and Ofqual consultation and we have no idea if they will be used for private candidates or those entered via a distance learning provider (DLP).
What we can assure you is that we will do everything to ensure our voice is heard when pushing for a process which is available and accessible to all. The directors at our partner exam centres are having regular conversations and meetings with the ministry, regulator and awarding bodies to keep abreast of the ongoing situation.
We really do appreciate that these are worrying and stressful times. I can assure you that the same pressure is being felt within our organisation. We are receiving thousands of calls, chats and emails every day and we will be in touch as soon as possible. However, we do respectfully remind our students and exam candidates that we are only human and we are all working around the clock to get answers and solutions to the current situation. Please be patient and kind to everyone involved.
We will provide further updates as they come in. Bear in mind if it is NOT on this COVID Update Page, we will not be able to answer your question, as soon as we have the information we will notify you. This involves communicating with thousands of learners and is a very complex process, I would ask you to be patient so we can work on your behalf, when we have to field thousands of questions it slows the entire process down, so please sit tight until we know more. Keep updated here on our COVID update page.
So to reiterate IGCSEs, GCSEs and A-Levels exams are now cancelled and grading is likely to be done using CTAG, we are awaiting guidance on how this will work for private candidates.
Please note: You will need to be entered for the exam with CloudLearn to be eligible if CTAG is used for private candidates.
Updated 23/01/21
10:30
Centre/Teacher Assessed Grades for Private Candidates (CTAGs)
Our exam partners Tutors & Exams have engaged with Ofqual and the Department for Education directly, on the impact of the suggested arrangement to assess private candidates, as featured in the Ofqual consultation paper, this Summer. The question is: are CTAGs for Private Candidates the right thing to do?
There really is no straightforward answer. There are many complex issues that need to be considered when deciding whether or not CTAGs for Private Candidates is the right approach. Only when all options have been considered can a balanced view be taken on the best and most appropriate solution. One thing is certain, whatever decision is made some people will be left feeling aggrieved.
We welcomed the invitation from Ofqual and the DfE, seeking our views on the predicament many Private Candidates find themselves in following exam cancellations. Clearly the assistance we were able to provide to 'displaced' candidates last year hadn't gone unnoticed! The discussions we held were very useful to all parties as we considered the challenges Private Candidates face when exams are cancelled and how best we mitigate those.
CTAGs for Private Candidates will clearly place a strain on the parents/carers of those outside of mainstream education, particularly those where money and support is difficult to come by, if further expenditure is required to gather evidence to support a CTAG. Private Candidates fall outside of the DfEs remit, thereby cut off from the support normally found within mainstream education. Therefore, we are delighted that Ofqual and the DfE are actively seeking to find solutions for Private Candidates.
We must not forget that there are also thousands of Private Candidates that have been unable to continue their studies for a host of reasons, many of which are often complex and nuanced. The pandemic has only exacerbated the problems many Private Candidates face. 'A perfect storm' if you will.
We must also be cognisant of the fact that many school students will have faced similar issues too. They have seen their studies continuously disrupted over the last year, coupled with losing loved ones, parent's businesses failing or losing their jobs. What is different is how the parents/carers/learners choose to be assessed. This throws up difficulties that none of us could have anticipated back in the good old days (way back in 2019)!
What we can say is, the DfE, Ofqual and all Awarding Bodies are actively working to provide a solution that Private Candidates can engage with to ensure they get the grades they deserve. As with everything, the solution may not be to everyone's satisfaction. Nonetheless, there will be a solution. We have made our voice heard, ultimately it's the decision of the DfE and the Regulator.
Our staff are working tirelessly to get you a solution to ensure that you get the grades you need to move on in your careers. Rest-assured, we understand the complexities of the system and are fighting hard to ensure that the system works for as many Private Candidates as possible.
We are acutely aware that the decision to cancel examinations for the second year running is extremely stressful for all parents/carers and learners. That said, our staff do not know any more information than that provided. Neither can we speculate on what we think Ofqual's formal decision on grade assessment will be.
Many of you are anxious and are looking for clarity as to what happens next. We are too! But please remember it is not our decision as to whether examinations take place or not, we only act on the instructions of the Awarding Bodies and Ofqual.
To have your say about how learners will be assessed this year, complete the consultation document the DfE and Ofqual have released: Ofqual launches consultation on 2021 exams and assessments - GOV.UK (www.gov.uk)
Do ensure you log into CloudPort regularly, we are only able to send updates to students who are actively engaging with their course (logged in within the last 9 months).
Updated 14/01/21
18:50
With our commitment to keep you abreast of latest developments/notifications please see the latest announcement from Simon Lebus, Chief Regulator at Ofqual, which was released yesterday in response to Gavin Willamson's statement in 'the house' on 'alternative arrangements' for examinations.
https://www.gov.uk/government/publications/simon-lebus-responds-to-the-secretary-of-states-letter-of-13-january-2021
It clearly states that Ofqual will consider 'the role of externally set short papers' to validate teacher assessments. In light of this statement please ensure you continue to study as normal and submit as much assessment as possible. Rest assured we are in dialogue with all stakeholders to ensure that no candidate, particularly those out of mainstream education, are adversely affected by exam cancellations.
Updated 11/01/21
14:50
The GCSE and A Level Exams 2021. What is the Current Position as of 11th January 2021?
In the absence of any formal notifications regarding how candidate grades will be awarded this Summer, following the cancellation of Summer 2021 exams, the media are attempting to fill the void. Not surprising given Ofqual have yet to release their consultation paper with a further two-week period in which to respond.
One of the most plausible scenarios to emerge over the weekend was reported by The Sunday Times, also featuring in the Times Education Supplement. It has subsequently been reported by other media outlets. It proposes pupils could sit "mini exams", marked by their teachers and sampled/moderated by the Awarding Bodies, in place of cancelled GCSEs and A levels. It suggests these 'exams' would take place late in the Summer term but on no single date. Moreover, learners may have to take the tests at home if schools do not get the go-ahead to fully reopen in time.
In addition to these 'exams' it is likely teachers will set some internal assessments in certain subjects, including an option for learners to submit a selection of work from the past two years. This follows the exam watchdog Ofqual's interim chief regulator, Simon Lebus, saying people must deal with the "reality" that there are "perverse incentives" for teachers assigning grades in place of exams.
So where would this 'proposal' leave those outside of mainstream education i.e. Private Candidates/Home Edders?
Well at present we simply do not know. However, rest assured, CloudLearn and it's exam partner Tutors & Exams are in dialogue with all stakeholders to ensure that private candidates will not be disadvantaged and will move heaven and earth to ensure any private candidate wishing to achieve a calculated grade this Summer will be able to do so.
We have already submitted plans to host 'mini' examinations, should they proceed, at any of our five examination centres located across the country for all candidates registered with us. We will also work with our candidates to ensure they have 'acceptable' evidence, required by the Awarding Bodies, to support a calculated grade.
Of course, this is all conjecture/speculation at present and we await a formal announcement from Ofqual. The TES has indicated this will follow this week, ahead of any consultation findings. As soon as we receive any official news, we will inform you accordingly. Until then here is what we do know:
Ofqual regulated qualifications
Summer GCSE's, AS and A-Levels have been cancelled. We await further clarification from Ofqual as to how candidate grades will be calculated. Ofqual are about to release a consultation on the process for awarding grades this Summer and will allow a two-week period for responses.
What about IGCSEs
Pearson have announced 'business as usual'. January International qualifications are currently running, good luck to all those candidates sitting this series. They have also announced that Summer exams will run as normal too. I think the rationale behind this decision is that primarily International GCSE's are used by home educators and private candidates and that their learning shouldn't have been interrupted in the same way that school children have. In addition to that, the UK is a fraction of the International assessments and it would be wrong to have two systems working in different countries.
Pearson Announcement: We have spoken with a lawyer who has confirmed that in law if you are travelling for exams, it falls under one of the "stay home" exemptions, so you will not be breaking the law by attending.
CAIE: As with Pearson CAIE have confirmed that International GCSEs will go ahead in the UK this Summer. Their statement, released 8th January, can be found here.
A final thought
All our staff are working incredibly hard and diligently for you throughout this pandemic. They haven't stopped since last March! Our staff do not know any more than the information provided here. They are working under incredibly difficult circumstances, some from home, some from work, running exams, and preparing for this week's release of results from the extraordinary November series.
We are acutely aware that the decision to cancel exams for the 2nd year running is extremely stressful for all parents/carers and learners. Many of you are anxious and are looking for clarity as to what happens next. As we are too! But please remember it is not our decision as to whether examinations take place or not, we are only acting on the instructions of the Awarding Bodies and Ofqual. Our dedicated staff understand the importance of them to you and how disadvantaged you all were last year. And we're here for you again this Summer, that you can be sure of.
In the meantime please ensure you are continuing to study as normal and complete as much assessment as possible so that this is available should we be able to use it for grade consideration.
Updated 07/01/21
19:00
The information from Pearson (Edexcel) and CIE as of today is that IGCSE exams WILL go ahead as normal in Summer 2021. That may change, so make sure you bookmark and regularly check this page to keep up to date with all Summer 2021 exam information. It is important to understand that it is only GCSE and A-Level exams have been cancelled at this stage, NOT IGCSE. We are awaiting information on 'Alternative Assessment' or CAG, however as it stands this will only be pertinent to those candidates studying GCSE History or ANY of our A-Level courses.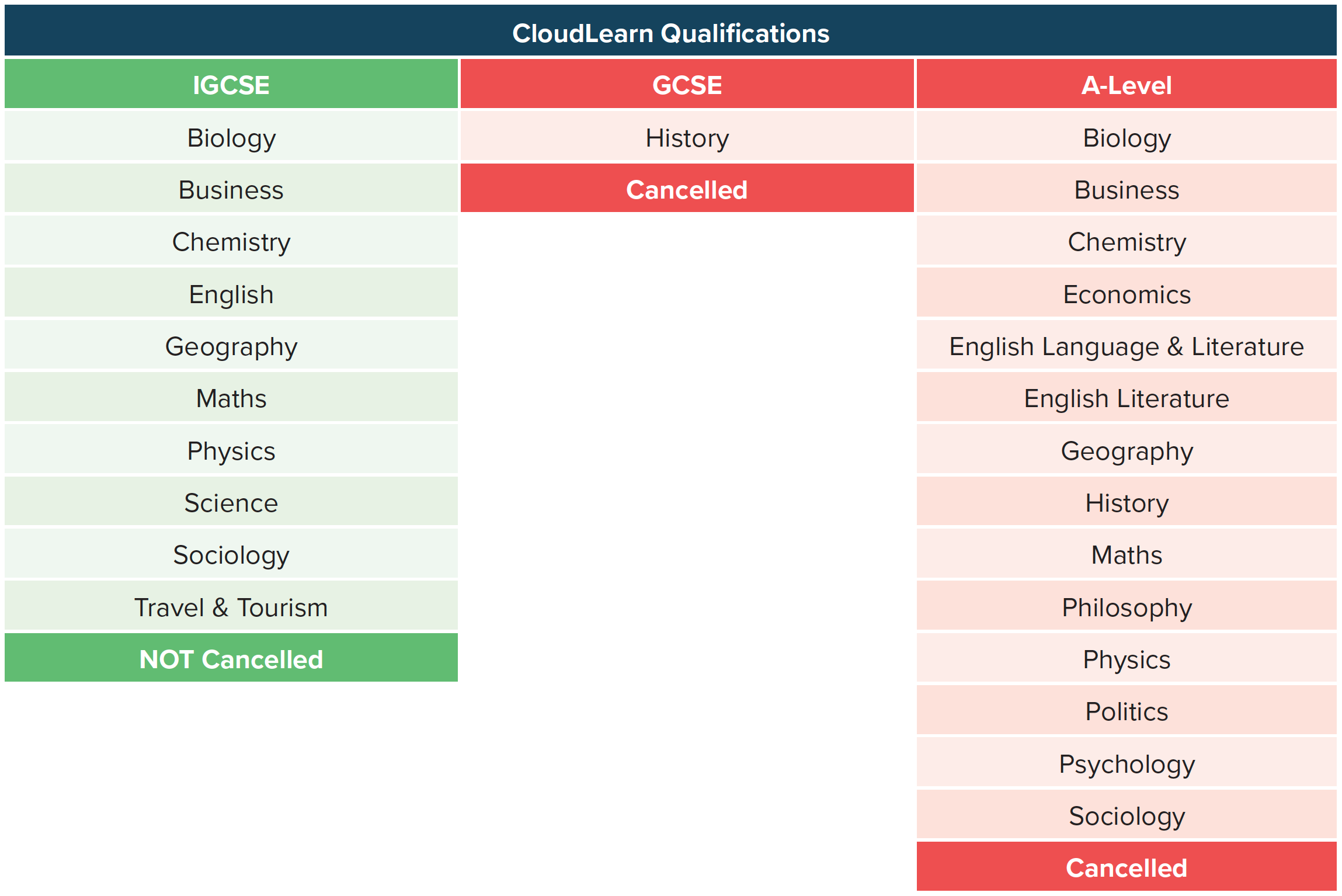 Updated 06/01/21
13:02
We continue to receive very high volumes of contact from students asking for information about the cancelation of GCSE and A-Level exams. At the moment we are awaiting information from the exam centres who in turn await guidance from OfQUAL and the exam boards, so again I would ask you to be patient whilst we gather all the information on your behalf. In the meantime you can review our interim guidance document to ensure you are keeping ahead of the curve.
Updated 05/01/21
22:25
We are currently 'scenario planning' and implementing measures in readiness for 'Centre Assessed Grading'. Our Exam Partner (Tutors & Exams) have secured meetings with key personnel within Awarding Bodies to discuss likely arrangements for private/elective home learners and we will work closely with all our partners to ensure CloudLearn Students get the grade they deserve.
Please see the latest update from Pearson (Edexcel) in relation to the January 2021 exam series. As of today this series WILL go ahead, commencing this Thursday the 7th of January. If you have any questions in relation to attending you should contact the exam centre directly in which you are booked.
I appreciate this is an unsettling period for all concerned and that many parents and learners will be anxious. However, I would ask for your patience until such time that Ofqual announce how learner assessment will be conducted. As soon as we receive any relevant information, we will be sure to update on this page at the earliest opportunity.
Updated 04/01/21
22:10
Following on from the Prime Minister's announcement this evening in relation to the cancelation of GCSE and A-Level exams in Summer 2021. Be advised we are awaiting information from our exam centres, who in turn are awaiting guidance from the exam boards.
All information with regards to Exams for Summer 2021 will be posted on this page, so please bookmark and visit regularly to get up to date information. We are confident that we will be able to get grades for all of our exam candidates as we did in 2020.
Our immediate focus is on supporting those candidates who are scheduled to sit their IGCSE exams this week. The information I have as of today is that they will go ahead as normal. If this changes we will notify ALL affected candidates and confirm options.
I would once again ask for your patience as we deal with this for you. As always we advise you to continue studying as normal and to submit as much assessment as possible.
Updated 10/11/20
19:53
Today saw the Welsh Government take the decision to cancel GCSE and A-Level exams scheduled for Summer 2021.
The latest information from the DfE and OfQUAL with regards to the availability of exams in England for summer 2021 is that they will go ahead but with delays. Watch this space for updates as they come in.


2021 Exams




2020 Exams


Updated 21/8/20
21:48
Congratulations to all CloudLearn Summer 2020 exam candidates on achieving your qualification during the most chaotic year ever! An extra special shout-out to all our GCSE candidates who almost doubled the national average on hitting top grades 9-7. Check out our results page to see how our students performed.
Back in March of this year we did not know if DLPs would be eligible for centre grading. I want to thanks all CloudLearn staff for working on this so diligently over the last 6 months to make this happen, you have had a profound impact on the lives of thousands of candidates who without your hard work would not have received their qualifications.
Updated 12/6/20
13:45
We have been notified by our partner exam centres that ALL student IGCSE and A-Level calculated grades have now been submitted to the exam boards. This is a fantastic achievement and I would like to thank ALL CloudLearn, exam centre and moderator staff for making this possible.
Our strategic partnership with Tutors and Exams allowed us to provide calculated grades for all students who submitted the requisite amount of assessment. Every CloudLearn student who requested Summer 2020 grading and followed our recommendations WILL get a grade in August 2020. Well done to everyone who made that possible.
Good luck to all CloudLearn Students with your exam results in August 2020!
Updated 14/4/20
22:30
Whilst we await confirmation regarding the use of Centre Assessment Grades for private candidates, we would remind all Summer 2020 candidates that it is very important that you continue to study and complete as much assessment as you can, to ensure your grade is made available. We will continue to mark all assessments and include this in the grading process in accordance with the awarding body guidelines, until such time as we are instructed to stop. This should supersede any previous advice offered. We would also encourage anyone who has not yet done so, to complete the Summer 2020 Exam Candidate Outcome Decision on our website.
Updated 9/4/20
11:30
We emailed 8000 students last night offering the latest update with regards to Summer 2020 Exam Candidates. We have explained what options are available to candidates at this time, and have provided all the available information from OfQUAL and the awarding bodies that is available to us at this time. If you are a Summer 2020 exam candidate, you are urged to read the latest guidance from OfQUAL and then complete the Summer 2020 Exam Candidate Outcome Decision form on our website. We need to register your choice of deferment or grade. The deadline for submission is Monday the 13th of April 2020.
With Belt and Braces in mind, we will also post this information in ALL CloudLearn courses, including the Book Your Exam course on CloudPort, so apologies if you receive multiple emails, but this will ensure that the information goes out to ALL exam candidates (particularly those who may have changed their email and not informed us (all information is sent via the email address provided to us).
Updated 3/4/20
16:30
Ofqual has today made the following announcement https://www.gov.uk/government/news/how-gcses-as-a-levels-will-be-awarded-in-summer-2020 pay particular attention to the information pertaining to Private Candidates:
"We know many private candidates (students who have been home-schooled, following distance-learning programmes or studying independently) are anxious to know how these arrangements might be applied to them. Heads of centre have been asked to provide centre assessment grades for private candidates registered to take exams with their centre and include them in the rank order where they are confident that they and their staff have seen sufficient evidence of the student's achievement to make an objective judgement. We are urgently exploring whether there are alternative options for students who need results this summer to progress and for whom a centre assessment grade is not possible. It may, unfortunately, be necessary for some to take exams in the autumn or next summer to get their grades. We appreciate that this is a matter of real concern to private candidates and will provide an update as soon as possible. We have asked organisations that represent universities and FE colleges to consider private candidates when making admissions decisions this summer. They have told us that they believe that institutions will consider a range of other evidence and information for these students to allow them to progress wherever possible."
We are working with our partner Exam Centre to propose a process for grade prediction, and once we know if, and how this will work for private candidates, we will notify all students. Please remain patient whilst we work on this, continue to study and submit work as normal.
Updated 25/3/20
12:15
The latest update is that we are still awaiting confirmation I am afraid, and to reassure you that as soon as we have the information we are waiting for, we will notify you within minutes, day or night. The awarding bodies are working on this now, and once they have a plan/strategy in place for the grading of private candidates we will be notified, as will you in turn. I understand how frustrating this is for everyone involved so let us thank you again for your patience, cooperation and understanding. ALL updates will be posted on this page, so please ensure you bookmark and visit on a daily basis.
Updated 23/3/20
12:00
Please see the latest update from our partner exam centre, Tutors and Exams. You will find this update in your 'Engage Portal', additionally, Tutors and Exams are emailing all CloudLearn candidates via the email address you provided.
Whilst the exam centres are still awaiting definitive confirmation from the awarding bodies, it looks quite likely that we will be using predicted grades to request certification for candidates. Those candidates who would prefer to defer should contact us this week, so we can record and pass your request to the exam centre.
I understand how frustrating this must be for all candidates. Please be aware that we are working on this around the clock in consultation with the exam centres and awarding bodies. As soon as we have confirmation, we will let you know within minutes.
Updated 20/3/20
18:45
We are still awaiting an update from the exam centres on what is recommended for our exam candidates entered for Summer 2020. I was hoping we would have an update for you today, but as I am sure you are all aware, this is taking more time than expected to trickle down from Government, to Ofqual, to awarding bodies, to exam centres, to us and finally to you.
Be aware we are continuing to work on this over the weekend, and the moment we have a definitive response, you will have it. We have responded to every candidate query this week by telephone, email and live chat. So thanks again to the team, you have been absolutely awesome this week, especially given that you all started on new systems, as part of our 'Work from Home' directive.
I am hoping we will have more information for you on Monday. Enjoy your weekend, support each other where you can, try to stay safe, and we will get through this together.
Updated 19/3/20
19:00
I would like to take this opportunity to thank ALL of our summer 2020 exam candidates (and parents) for their patience and understanding during these very unsettling times. The cooperative spirit you have exhibited in light of unprecedented anxiety, has been an inspiration to us all, and I would ask that you all continue to support us, as we work (around the clock) to obtain for you the best resolution we can.
My priority as of Monday the 16th was to ensure the safety of our tutors and support staff, so that they are able to support you through these coming weeks. On Tuesday we had ALL staff working safely from home and we anticipate no significant downtime. I would however again ask for your patience, as we are experiencing unseen volumes of calls, emails and live chats relating to exams. Our support staff are working tirelessly through a steep learning curve in using remote working technologies, so that we can continue to support students in achieving their objectives safely.
As you all know, we are keeping you updated with the latest information as we get it from the exam centres. All updates are being sent to you via the exam portal 'Engage', logins for which, you have all been provided. I expect that most of you have seen the latest update from our exam partner Tutors and Exams. For those of you who have not, please follow this link. As we advised earlier today, we are awaiting confirmation, which we expect tomorrow and early next week, as to what options are available and recommended for candidates in different situations. I appreciate that many of you are very anxious to hear the outcome, so please rest assured that our team are doing everything they can to get the information to you as soon as it becomes available.
I would also like to thank ALL the CloudLearn team for pulling together and demonstrating such a supportive and dedicated spirit to ensure our students' needs continue to be met. I know many of you are struggling with your own daily challenges, so the overtime you have donated to help our community is truly impressive. Thank you all so much.
We will continue to update you the moment we can.
Stuart Gibson
CloudLearn CEO
Updated 19/3/20
12:15
We have been in meetings with our partner exam centres all morning and here is the information we have at this time.
All exam candidates will have the option of deferment to a later diet at no additional cost. This includes candidates travelling from overseas, and particularly those at high-risk (or immediate family). If this is an option please make us aware ASAP, so that we can start making the necessary arrangements.
The exam centres are awaiting government confirmation (due tomorrow) that grades can be provided on the basis of predicted grades already provided. This may be the preferred option for MOST A-Level students who are looking for grades for university entry in 2020. ALL 2020 A-Level exam candidates should already have submitted NEA (Coursework) and at least 2 TMAs on CloudPort.
CPAC students who have already begun Science Practicals, may be awarded the endorsement on work already completed. The exam centres are negotiating this with the awarding bodies as we speak and we will have an update on this in the coming days.
The exam centres are coordinating with Pearson (Edexcel) and CIE to request permission that IGCSE external candidates can still present for examination. This decision is under consultation with the awarding bodies and we should have a definitive answer on this within the next 2-3 days.
As this is still very much in a state of flux, I would recommend that ALL candidates remain entered for examination for the coming days, until we have more assurances from the awarding bodies and exam centres, as to what options are available/recommended. International students are recommended to request free deferment to 2021 immediately, as travel into the UK will be at the very least problematic, and you may benefit from canceling flights/hotels etc. in advance.
If the exam centres get permission to facilitate IGCSE examinations in summer 2020, the caveat will be that candidates attend at their own risk, and only those exhibiting no symptoms and deemed low risk should attend. If you are in any doubt and if deferment is an option we would very much recommend that approach, as it will give you time to mitigate risk.
We will continue to keep 2020 exam candidates updated via this page and by email. Please continue to be patient as we work on your behalf. The exam centres are sending out updates via email prompting you to log into the 'Engage' exam portal, so that you can see information as it becomes available. A Forum post was published on CloudPort this past Monday that gives information on how to do this. Please know that we are doing everything in our power to get this information to you, as it becomes available.
Updated 19/3/20
09:30
We have meetings scheduled with our partner exams centre today at 11am. As soon as we have a strategy in place we will give an update here, as well as emailing ALL exam candidates. I appreciate how stressful this is for everyone and I thank you for the patience you have demonstrated over the last few days. Rest assured we are doing everything in our power to obtain a suitable resolution for all concerned.
Updated 18/3/20
20:00
At time of writing we are awaiting an update from the exam centres in regard to this upcoming exam diet for GCSE/IGCSE/A-Level exams. They in turn are awaiting contingency sign-off from the awarding bodies, who are taking their cue from Ofqual and DfE directives in light of the recent statement made by PM Boris Johnson.
As soon as we have this we will provide you with the information as to how this will impact exam students. Please be patient and rest assured that we will disseminate this to you at the absolutely earliest.
Updated 16/03/20
11:00
In light of the uncertainty we all face in our daily lives with the outbreak of COVID-19 (Coronavirus), I wanted to keep you informed of the steps I've asked our team at CloudLearn to take to ensure we are prepared for all scenarios. My absolute number one priority is the safety of Learners, Tutors and Support Staff, no matter what happens.
Amid the COVID-19 anxiety, school shutdowns, work-from-home directives, and more, we at CloudLearn have resources to help families and schools navigate this unpredictable time. As a parent and teacher myself, I know it can feel overwhelming for families and teachers to adjust their plans on the fly.
Our immediate focus is on ensuring our current students are aware of the latest information with regards to upcoming GCSE and A-Level exams. Our partner exam centre Tutors & Exams, are in constant communication with all awarding bodies, to ensure they are following recommendations and sharing this information with candidates. This is why it is imperative that you regularly log into the T&E Exam Portal for which you have been provided login details. There you will find all the relevant up-to-date information relating to the upcoming exam diets. If you have any questions or concerns, you should contact the exam centre directly via the portal, alternatively call them on 02476 221 008.
Helping our learner community choose media and technology that can keep students engaged, entertained, and learning is core to our organisational mission. Whether you have children at home or you need to develop plans to learn outside the classroom, we will help you find the solution you need.
In an effort to ensure the safety of our support staff we are implementing a "Work from Home" directive. As of Wednesday the 18th March all CloudLearn support staff will be working remotely. This should not have any effect on our ability to support our students, but we would ask that during this time, you remain patient, as we expect a higher volume of calls during the coming days.
Kurien Philip
Director of Technology
Useful links
Keep up to date
To stay up to date with the COVID-19 crisis, bookmark this page, we'll post all updates here.